…but not a bear in site? We are still pondering which Bear of the brown and the black bears you run from, and which bear you freeze for? Fortunately we didn't see a real live bear!! Lots of taxidermy though!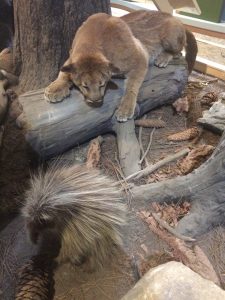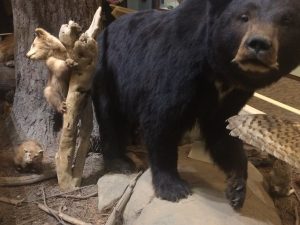 So 6 Kiwis, an Irishman, An Aussie and one token American go for a weekend in the woods! Sounds like a joke, but it's not. Our friend Sarah's boss had kindly leant her his cabin in the woods and said she could take up a group of friends.  So on a Friday afternoon 9 people piled into two cars, and we traversed 243 km/150 miles from the centre of San Franciso to Arnold, California. Located within the massive 900,000 acre Stanislaus National Forest, adjacent with Yosemite National Park. We seemed to spend an hour driving uphill to the cabin which sat at 4000ft/1200mtrs above sea level!
The car Lindsay and I travelled in got there late in the evening. The first group that arrived earlier in the day had already organised supplies and offered me a refreshing beer when I walked in. Pity I have never learnt to enjoy the taste of beer, after many failed attempts!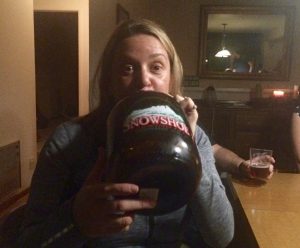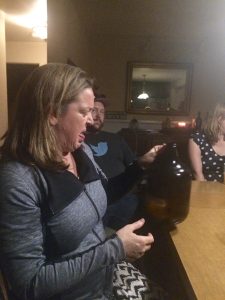 The next day we woke up and opened our curtains to a view of a pine tree forest.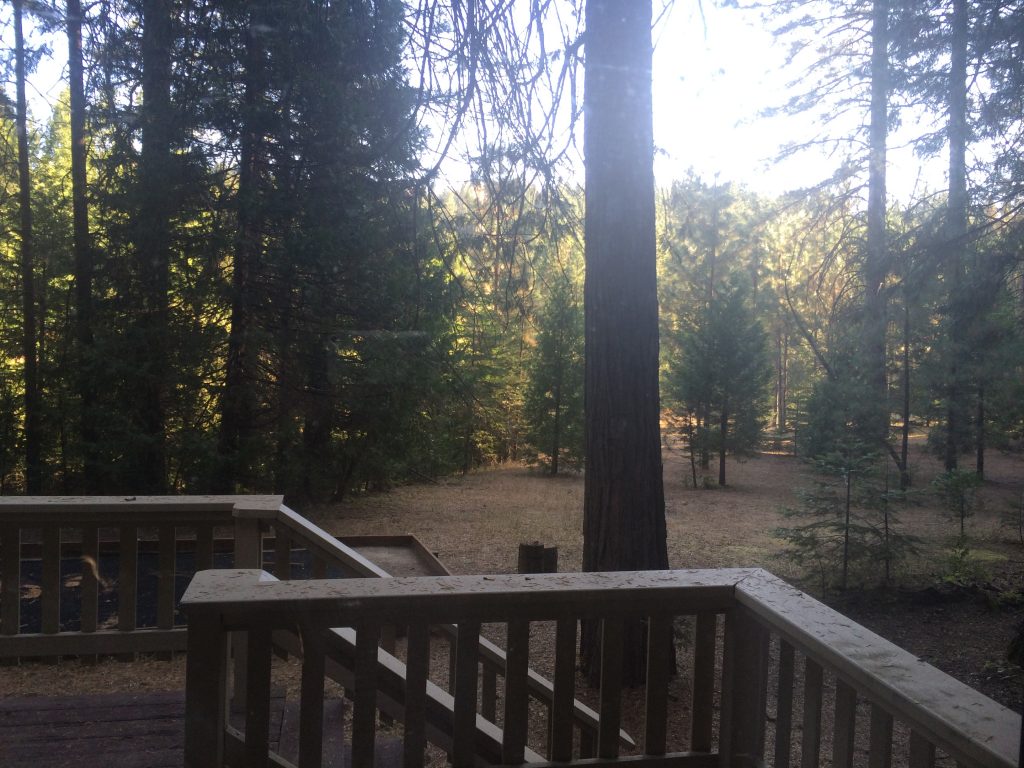 After some discussion about the days activities we took a short drive to Calaveras Big Trees State Park, where Camp Leader Sarah took us for a tramp, oops I meant Hike, amongst the giant Sequoia trees. Before departing, some of the party went in search of water to ensure they didn't dehydrate on the trek. Here, Kurt and Tim model their Water Bottle Bags. It seems their ability to grip with their hands didn't appear to be working.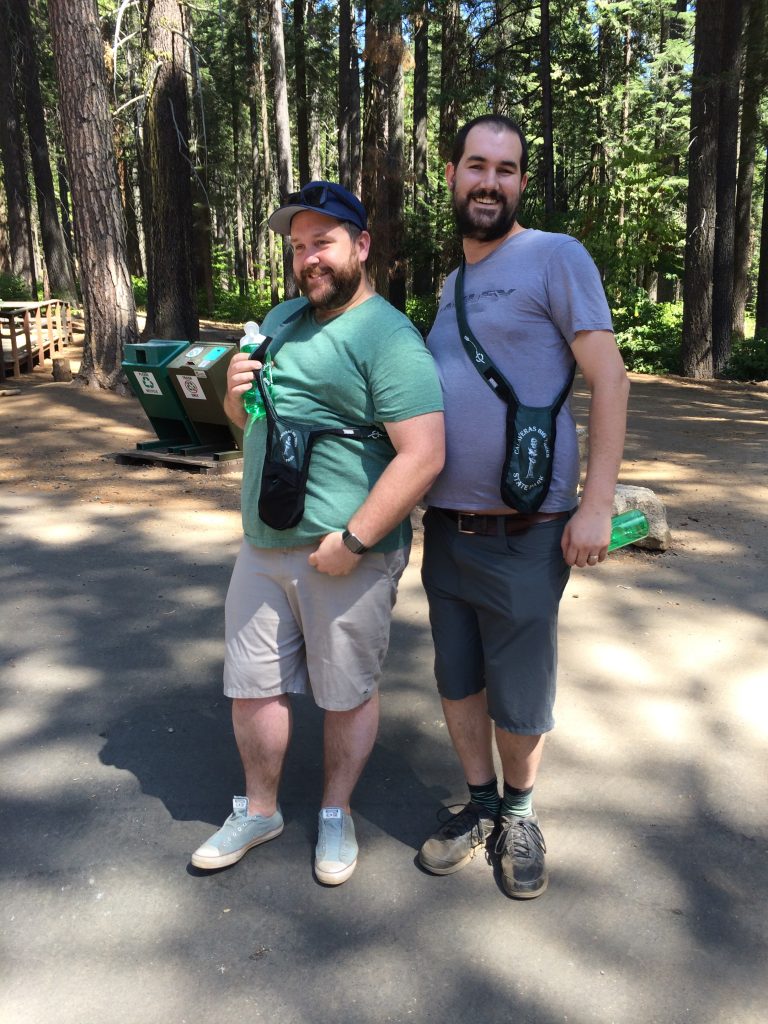 Before leaving, we thought about joining the forest church, but the woman leading the singing was so out of tune, we couldn't bare the noise.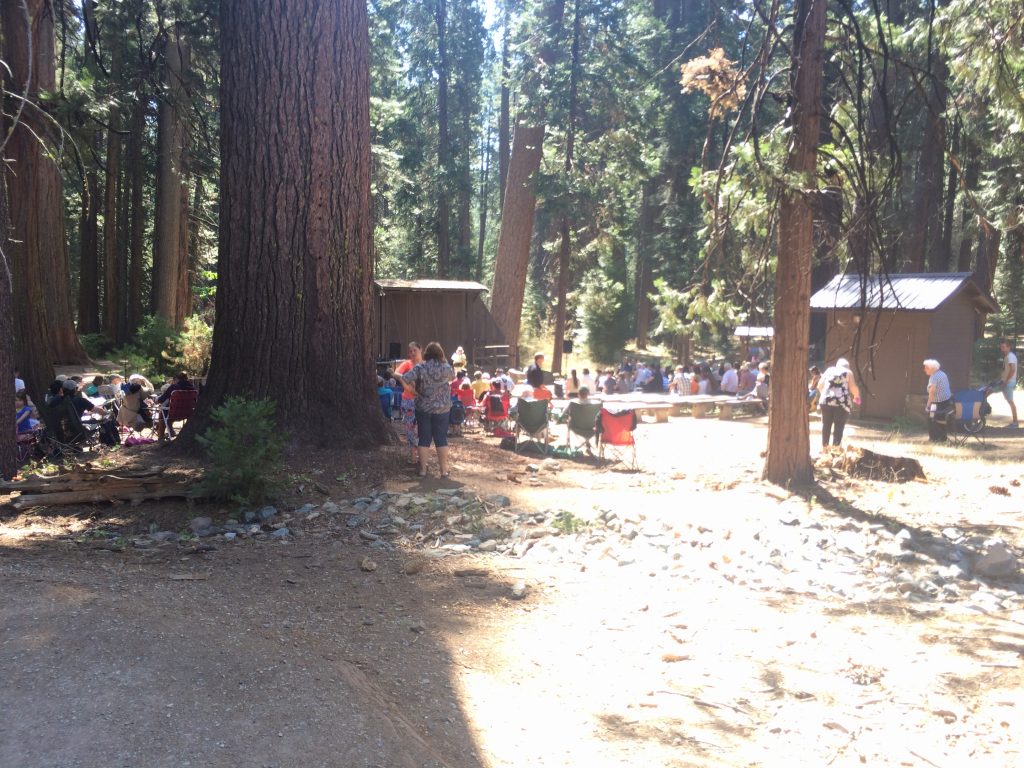 The trees in this part of the park are so large that our group of 9 could easily fit on this stump, appropriately named "Big Stump".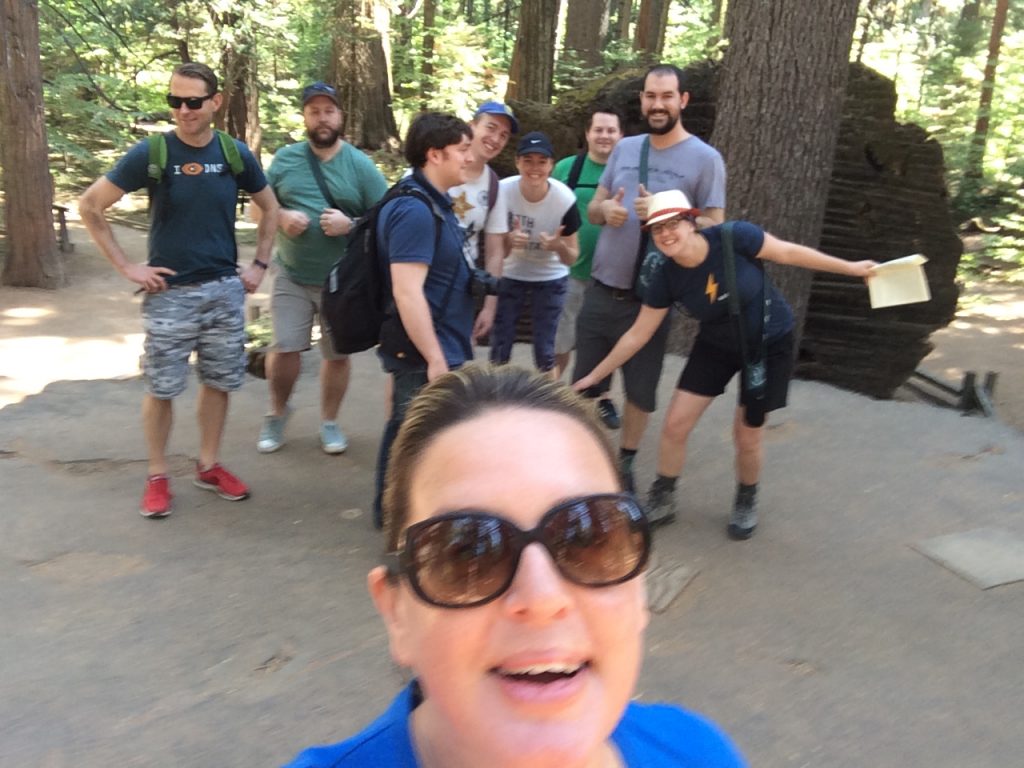 These massive sequoias only germinate when they are scarred by fire and many had burn marks up the side.  Other trees were dead, stripped of their bark though still standing.  In the early 20th century one of the trees had its bark stripped in sections, and taken on a roadshow. The bark was reassembled over and again, to show the impressive girth and height of these amazing mammoths
.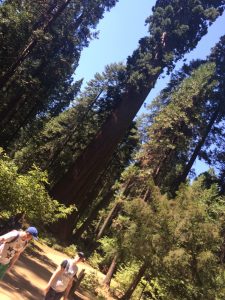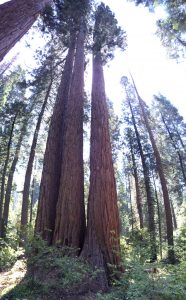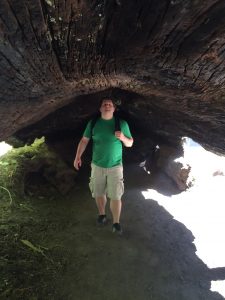 It's pretty hot in this forest at this time of year, though in winter it snows, so we decided to head off to an alpine lake for a bit of a dip and a cool down. After agonisingly walking into the freezing water up to our knees, we decided to give up on the swim. However there were some fun sights to be seen including this paddle boat swan, which also had a tiny outboard motor.  Kurt and I were so intrigued, we got a photo with it.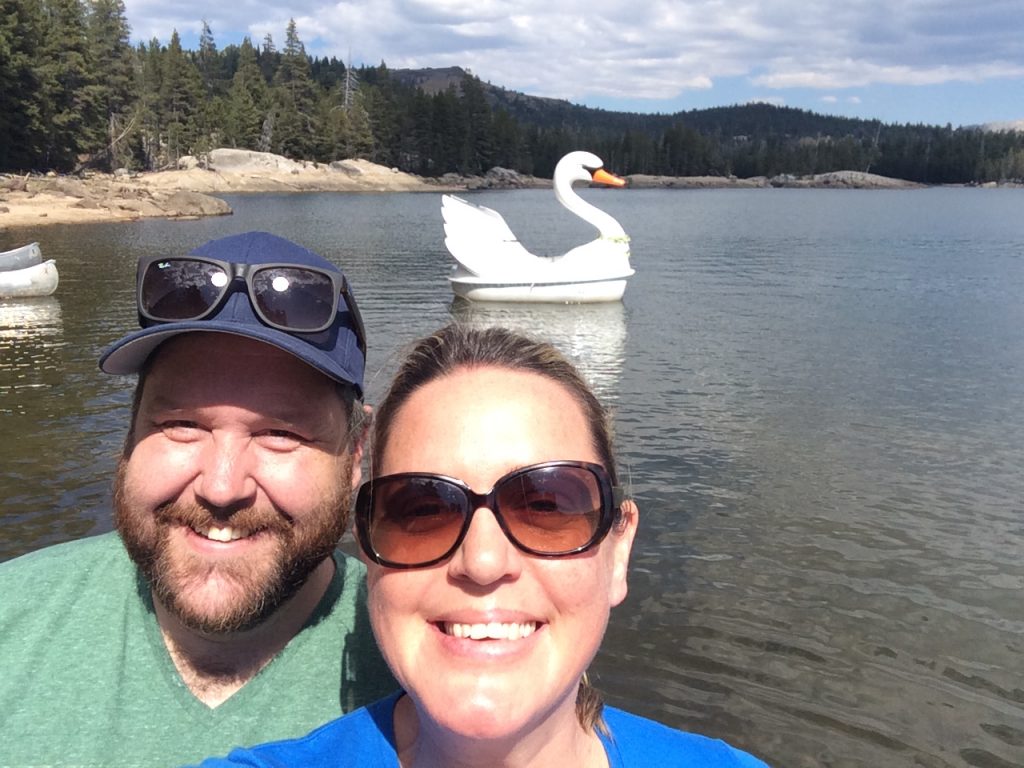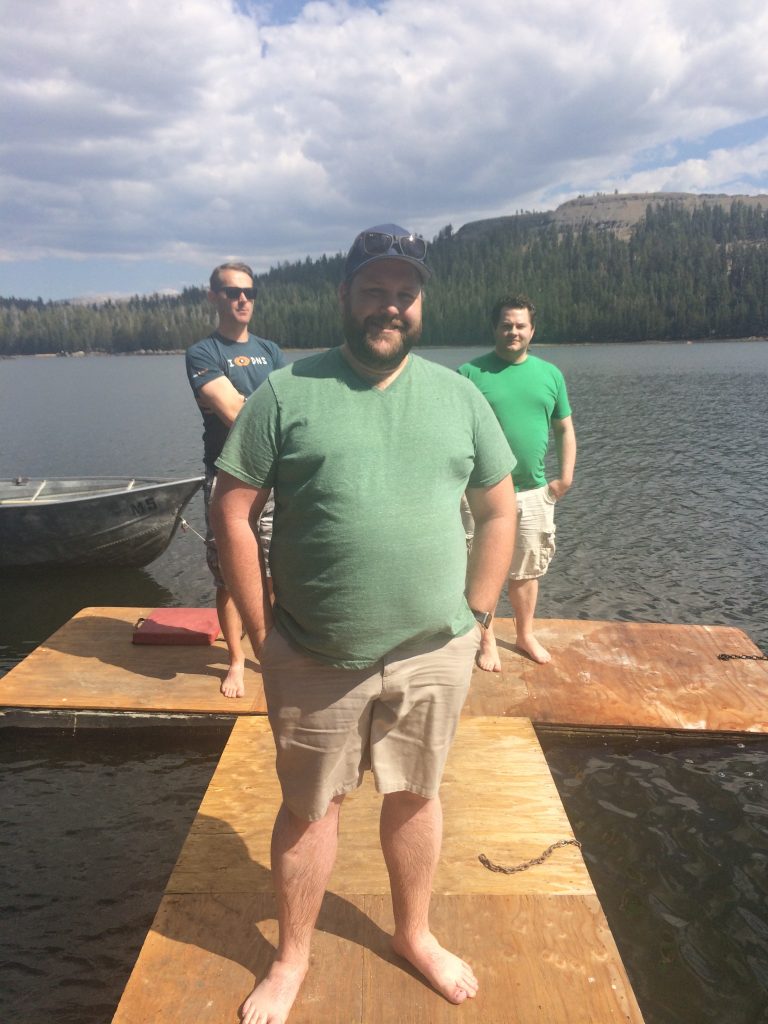 Finally at the end of the huge day, we headed back to the very large cabin and Clay aka Carl, the token American, prepared dinner marinating chicken and beef to be thrown on the grill(BBQ) later in the evening.  It was a fabulous meal, with a new group of friends. The evening was finished off with board games, with Lindsay and I tucking into bed a little earlier than the more youthful members of the group, who's ability to drink later into the evening is still peaking.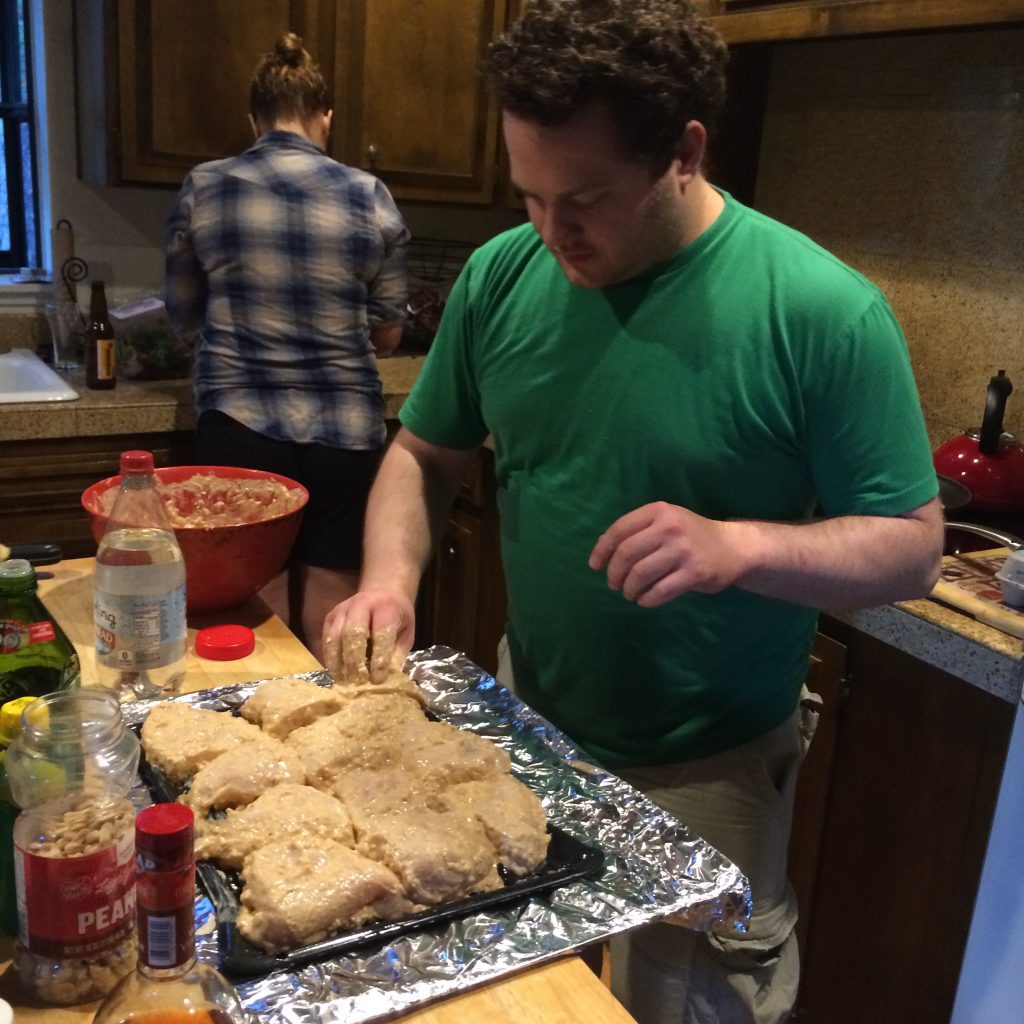 I think the best way to tie up this post is with this short clip. Out and about tripping in this amazing forest, singing along with the great Neil Diamond. Click on the following pic to watch and laugh….be warned, have your volume turned down: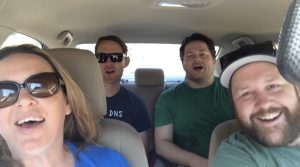 Thank you everyone for a fabulous weekend.