I now have no shoes. I have only worn them a couple of times in the last few months, so I decided to get rid of them. I have noticed that when I walk around town with jandals, I get the usual number of stares, but everyone is looking at my feet now – maybe because they look like this: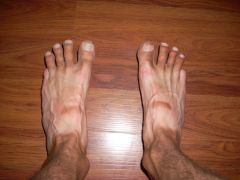 I wanted to spend some more time writing a longer post, but the high levels of Honghe smoke in this Internet cafe are making me feel physically ill, and so I think it's time to leave. I did get my Kazakh photos done though.
In Hami now, about to head out on what should be some of the last long desert stretches for a while, heading across to the end of the Great Wall. Will do some Chinese photos at the next big stop – Jiaguyuan maybe. Big landscapes here, vast emptiness.
Before I go, a few quick notes about some of the T-shirts worn by Chinese girls. Many have fake brandnames, with spelling mistakes (e.g. Abercrombie and Titch). But some of the more amusing ones have English phrases, e.g. "Trouble Everyday" or "Bad-ass Lover." My current personal favourite is "Juicy American Princess," worn by someone who was neither juicy nor American, but maybe a princess of sorts. Ah China.