Well, it did have to be done. We had to try Durian, so beloved of Malaysians. A large prickly fruit, it emits a rather strong odour, and has flesh of not particularly pleasant consistency. The strong smell puts you off, but we decided to purchase one from a roadside stall, and see if the rumours were true. I was carrying it on my bike, so I got gentle wafts of it for several hours. Luckily our hotel in Bidor didn't ban durian, as many do, but still we decided to eat it outside.
After Jan worked out how to cut into it, we had a bit each, looked at each other, looked at the size of the fruit left…and agreed we had had enough. It wasn't that bad – it's not going to make you throw up – but it just wasn't that great either. To be polite, I guess you could describe it as an "acquired" taste. Plenty of people enjoy it, if the number of durian stalls is any guide, but I don't think I'll invest the time and energy into acquiring the taste.
I'm now in Kuala Lumpur, capital of Malaysia. It's not a bad city, but it's all a bit too developed and Western for me (i.e. too expensive). Or maybe it's just that I'm just another Westerner here, and I'm not special anymore. Plenty of marble and glass in the shopping malls, and anything you want is for sale. I'm certainly not complaining about the English language bookstores. One of the largest Borders bookstores in the world – and they're not the only one around, Kinokuniya has a great selection of tech books. I'm trying to decide if I should renew my Cisco CCNP certification. I need to sit an exam for it by March 22nd. Looks like I can get study materials here, and I could sit the exam in Singapore. I will look a bit of a dork sitting on a Thai beach with a Cisco book though. Ah well, no real change there.
There's not a huge number of tourist places here as such, but there's still something to do other than shopping. I think. Ah yes you could go and look at these: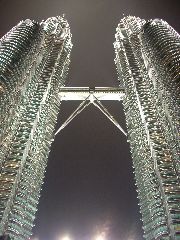 And I've also been out to the Eye on Malaysia, a 60m high ferris wheel. I was going to be able to tick off the "largest portable observation wheel in South-East Asia," but the Singaporeans has just opened a massive one – the Singapore Flyer. Might have to go on that when I get there. 6 months in London and I never went on the London Eye. Oh well.
I could race down to Singapore now, and be there by the end of the week, but like Jan, as I get closer to the end of Asia, I find myself slowing down, and in no real hurry to finish it. Somewhat the opposite of what you might expect. Will probably be even worse by the time I get to NZ, that last leg from Auckland to Whangarei might take a week.