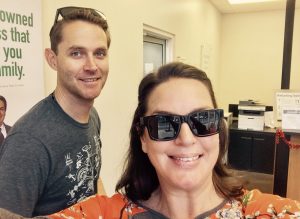 See this picture where I look happy? Well I wasn't! That's me pretending to smile when waiting around at the rental car company for 6hrs whilst they found our pre-booked rental car – every customer was grumpy…and some a little shouty on this fairly warm and very muggy winter's day!
We finally left New Orleans with me wanting to go back for more, and we headed to Ruston, Louisiana some 515kms/320miles away. Our drive out of New Orleans was memorable for the 70kms/43.5 miles we traveled on a suspended 2 lane (in each direction) highway over a Bayou (large marshy wetlands). Travelling for that long distance over water seems a little disconcerting, but I could imagine zooming around on an airboat like I've seen on TV shows set in the area…escaping the croc infested waters!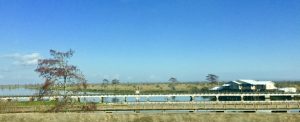 I was somewhat excited when looking at the map, as I thought in the immortal words of  Johnny Cash "I'm going to Jackson". Unfortunately we turned off just before we got there and I didn't get to check out this famous town.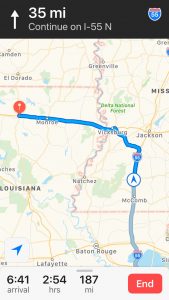 We arrived in Ruston late in the eve to a lovely warm welcome from our hosts Matt (Lindsay's friend and work buddy), Tara & their children Audrey & Sam.  That night Tara and Matt cooked us up a traditional southern meal including shrimp and large American steaks, cooked on an the amazing Green Egg charcoal grill that would make any of our meat adventuring friends, quite jealous!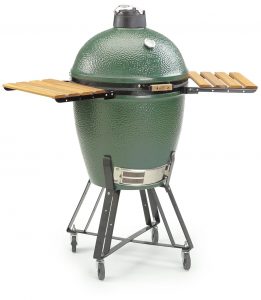 Matt had a few items for us to do during our visit to Ruston. No. 1. A walk up Driskill Mountain, the highest point in all Louisiana at 163mtrs/535ft (a far cry from the 7000ft we cycled up a couple of months ago in Denver). But it was a lovely walk through a winter forest with Matt and his family, and a great photo opportunity at the very tip top of Louisiana for Lindsay and I.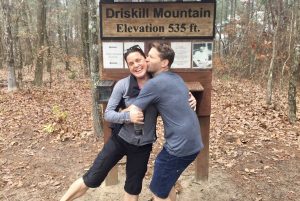 No 2. on the agenda – a trip to the gun range!!!  When in Louisiana, one must do as the locals do.  Lindsay had previously told Matt that the all important 'wifey stamp of approval' would not be issued for such an outing but I like to keep him on his toes, so off we went.  This little trip gave us the opportunity to meet people we would not otherwise get the opportunity to converse with. So much to my delight, and Matt's slight chagrin, we got chatting to a good ol' southern conservative.  His two best lines included his excitement at the election of the new great president – "you just wait and see how things improve when he gets in". And when asking where we were living, he told us in that slow southern drawl that "once I visited San Francisco. That's the land of Fruuit & Nuts", referring to the very different, liberal folk on the west coast!  Lindsay and I were in fits of laughter, and continue to tell the story.  I think we're more the nuuts than the fruuit, but I'll let you decide 😉
No.3.  A tour of Ruston.  Ruston is a small city, who's main economics is built around the Louisiana Tech University. When semester is in full swing, the city almost doubles in size! Our hosts took us on a tour of the campus and I managed to get this great picture of them all…and Lindsay.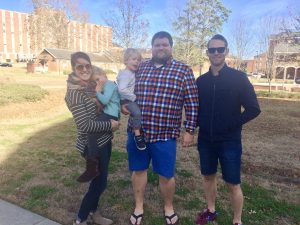 This holiday included a LOT of food.  And whilst in Ruston we got to sample to a wide variety of local fare including Po'Boys which are basically big meat sandwiches; Gumbo; Home made Monkey Bread; Biscuits which in America are savoury scones which include almond milk and sugar in their ingredients; and of course one breakfast with almost bottomless Mimosa's – well we polished off two bottles of bubbles! Lindsay was also quite taken with the coffee we picked up at from the drive-through Starbucks. I didn't think to get a photo of this phenomenon, which is merely a fact of life in the U.S.
After several days with our wonderful hosts it was unfortunately time to leave.  We have been invited back for some real adventuring, which we hope to take up the offer of one day in the future.
Our relaxed drive back to New Orleans, from where we would fly up to Washington DC, was through lands that seem typical of what I expected to see in America.  Big American flags; Cornfields stretching for miles without fences; extra large 4wd's. And of course a drive over the impressively large and infamous Mississippi river that makes its way through all of North America.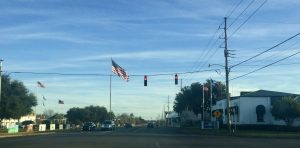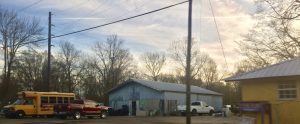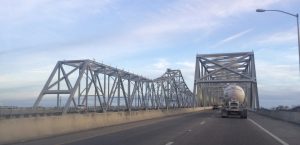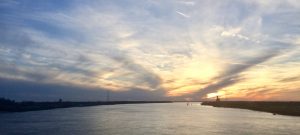 ---
Oh – and just one little addition for the ardent readers!! Lindsay has a bit a thing with world maps that don't include NZ including a Reddit feed and the website World Maps Without NZ. Well much to our horror we found that Matt's daughter Audrey, may also need some educating on this topic…………