"Welcome Mr & Ms Hee-ill" was the first thing we heard when we arrived at the hotel Pontchartrain in New Orleans at about 11pm on Christmas night. Lindsay thought at first this man speaking with a Cajun/New Orleans accent was a bit exaggerated, but it turned out to be real. From now on Lindsay wants to be known by this pronunciation!
We took a 9 day trip on the 2016 Christmas holidays to New Orleans, then Ruston-both in Louisiana, and then to Maryland/Washing DC.  But I might split this little blog into 3 as each place was so interesting and diverse.
After our late arrival, we weren't ready for sleep as the time East Coast time difference was 3hrs ahead of West Coast time, so we headed to the hotels roof top bar 'Hot Tin' for a cocktail (Unfortunately there was no cat to be found).  It being Christmas day, we thought we were lucky it was open. We weren't expecting this bar, with sweeping views out to the Mississippi (well there would have been except for the low lying cloud and mist  – but we could see a big bridge), to be filled with party goers, with some even dressed in suits…on Christmas Day!! Lindsay tells a story of being overwhelmed for a moment when I went to the bar to order a second cocktail and he was set upon by three 20-something blonde southern bells on the hunt for some man flesh! Fortunately I returned to save him much to his relief, and my amusement.  After a genuinely warm conversation with these girls, they went off in hunt of some other single men.  Lindsays still recovering…and still telling the story!
Before heading to New Orleans, Louisiana (NOLA) I had asked a few people if they could give us tips on where to stay and what to do.  Unfortunately some of it came in a little late (I hope they don't mind, Ive added their tips at the end of this post for any other NOLA adventurers) but we got enough to set us on our way.  Our gorgeous hotel, which was reminiscent of a time gone by, was in the middle of the 'Garden District'. Lindsay knows I love a characterful old home so after wondering along some of Magazine Street checking out the shopping (a little quiet on Dec 26), and popping into two of the many historic and fascinating cemeteries, he took me off exploring down side streets with all sorts of colourful, delectable, gorgeous old homes. From the stately antebellum mansions, to the old and rustic cottages…all colourful, and a feast for an old home junkie like me.

Later we headed to very central French Quarter which is now a tourist mecca.  It reminded  me of our time travelling around Cambodia particularly Siem Reap, both with a very strong French History. However it seems time halted in this area when in the early 19th century Napoleon sold Louisiana to U.S. The buildings have a strong French flavour but are far more  bright and colourful than anything I saw (in my short visit to Paris many years ago). I suspect the colour is due to the Spanish and Cajun influences. The buildings, pavement, everything seems as it would have been.  There are plenty of very expensive French influenced antique stores to shop in and lots of bars and restaurants, most pitching jazz and blues, and true southern delicacies.  However, Im not a fan of the heavy tourist pitch. Bourbon street specifically had a strong smell of vomit from the usual tourist fare with cheap drinks served in plastic yard glasses, and individuals attempting to peddle their restaurants fares. But the streets running parallel are definitely worth checking out, and smell quickly improves the further away from Bourbon St you get.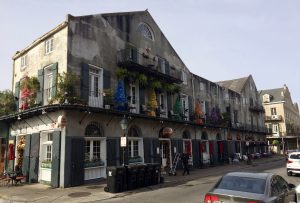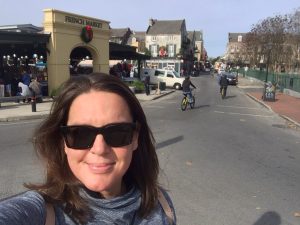 A friend had recommended getting away from tourist food and trying some of their haute cuisine. So Lindsay Yelped his way to Toups Meatery where we found some utterly divine, cajun influenced food and the most wonderful and friendly waitress who we for once were happy to tip.  As a side, I asked her what the large cat sized creature was, with a long think tail that had run across my path on our walk to the restaurant.  It was a Nutra Rat. I never want to see one of these again. Apparently they have nasty big teeth, equalled with a nasty big bite!
I've been told from many who have traveled to NZ, including the Aussies, that NZ does the best coffee in the world, and its available everywhere even in small towns. We've struggled in San Francisco to find great or even good espresso (Americans treasure their drip coffee above all else), but in NOLA it seemed there was a fairly abundant supply of good espresso coffee, though your out of luck if your after a flat white! On our final day (Actually after we'd travelled to the far side of Louisiana and back) we quickly popped out to Marigny area to see if the coffee was even better there. You see, the hipsters have discovered this area and now its an up and coming boho part of town. Where else would you expect to get good coffee? Unfortunately like San Francisco, it seems New Orleans doesn't get going till late morning so no other shops were open, but we happened across this lovely coffee shop, where I got my morning expresso to set me up for the day.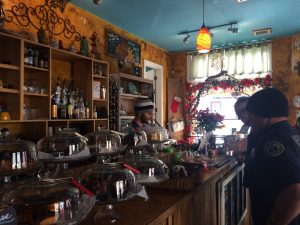 Before leaving town we headed to the the Unites official WWII museum.  Unfortunately I was a little unwell, and we were short on time, but definitely worth a visit.
Nola tips:
Lindsay and Anna
Lunch – not very NOLA but very nice. La Casita, on the way if you walking  from the Garden to French Districts.  https://www.yelp.com/biz/la-casita-new-orleans?osq=mexican+food
Other links included in text
Linda
Freetoursbyfoot.com …we did French Quarter ghost tour (just ok) and the Garden District/Lafayette Cemetery tour (REALLY GOOD!…our guide was Sarah and she was great). Must reserve a space online. The organization offers free tours but asks for donations at the end.  pharmacymuseum.org -quite interesting. You can just look around, but I recommend taking the short guided tour. I think they only have a guide available for one tour per day.
Food: Jacques-Imos is really good and is a fun place out of the Quarter.   Coop's is in the French Quarter. It used to be very good however the last two people I sent there said they didn't care for it much. I don't know if they've changed cooks or anything like that.  Acme oyster house is defintely packed with tourists but they are really good oysters.
Oh, Magazine Street in New Orleans…lots of fun shops and good food.
Charlotte – "NOLA is epic you will have an amazing time. We were there for a week and didn't get around everything we wanted within the city limits"
Howlin' Wolf Sunday night hot 8 brass band (they are in my top 3 so seeing them for $10 at their local was incredible. HW also holds comedy on a weeknight
Spotted Cat Club – this is a good start for music into her French quarter but most of the music clubs are quality so you just have to find what you like.
Gazebo Cafe in French Q. – Order the roast beef Po' Boy
Whitney Plantation (we took Greys bus lines) if you book two greys bus tours you get a discount. This is the only plantation we toured. It was amazing and we were provided with a true account of the history by a historian who descends from the Israelite slaves. They provide umbrellas but they only have a few so hat and water. Probably cooler now than when we went
Airboat swamp tour – take sun protection and water. We went with Airboat Adventures and they were great
**you can get a one day plantation and a swamp tour deal, Whitney Plantation wasn't included with a deal so we booked boat separately.
Buy a 1, 3 or 5 day jazzy pass for the street car up to the Garden district – wander around the mansions (they are something else)
Visit the Cemeterys – pay the $5tip at the gate for a tour worth it otherwise it's just another cemetery (I was interested in the history).
Free walking tours in the French Q. (Pay a tip)
WWII museum. We aren't really 'military/war people. We expected to be a bit "meh" about it but ended up staying 5.5hours! Ammmmazing and a little expensive but amazing.
If you haven't already download the TripAdvisor App. Save the places you want to go in the app prior to going and when you are close to one of your stored interest the app will alert you
The French quarter art market is nice (we spent waaaay to much money there!) as is the normal market.
Bourbon street is something you have to do even if only once. – buy a daiquiri and wander around the streets it's nice because the drinking culture isn't like oz or NZ people are more relaxed – dance! Find a night club and dance like no ones watching!
Sam
Once you get past the cheap local joints. Go for the nicer spots and be blown away. Catfish and crawdads are not what New Orleans are best at. Their haute cuisine is out of this world as is their jazz and blues
There's gator tours and in the swamp (I didn't do) and some good evening walking tours. Some voodoo shops are funny for their entertainment factor

Find good blue grass and jazz in the evenings, check out the 2 main cemeteries and surrounding plantation houses during the day

Food. Maybe 1 day of crawdads and po boys then get into the real diner side of south cuisine. TripAdvisor can help there