I have now made it to Esfahan, 450km south of Tehran. Four long hot days in the saddle, along some nice smooth wide roads – 3 lanes each way, plus a wide shoulder for me – running near the edge of the desert. These are the sorts of views I was looking at:
Towns are few and far between, and yesterday things got interesting, with no services stops for over 125km. Luckily I found an Iranian Red Crescent base, and they gave me some water. I went through over 7L of water yesterday, and it probably still wasn't enough. But it doesn't have to be fun to be fun, right? Not quite so good when you haven't had a shower or changed clothes for 4 days, but in some ways that didn't really bother me. Yesterday when having a shower, and using the scrubbing brush, I did find that much of my tan was actually just dirt, but no matter. For cyclists coming this way in future, the tollway is a good road, with not too much traffic, just make sure you stock up on food and water whenever you get the opportunity.
So now I'm having a couple of rest days here, in what is a lovely city. Look, trees and water:
I started the day with these two big bits of bread – approximately $0.05US each. Sweet. Handed to me straight out of the oven, burning my fingers. It's very nice to sit under the shade of a tree, eat fresh bread, and watch the town coming to life – not too busy today though, it's Friday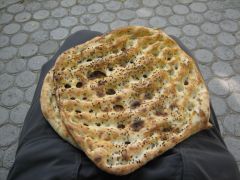 After various comments from Iranian men, and the fact that my head was getting too hot, I have gotten a haircut, and lost the beard. I am sure this will please my legions of female fans no end – check out the new look: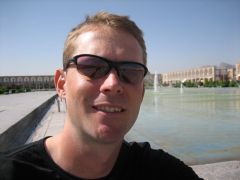 Oddly the hair doesn't seem to be growing back as quickly on my face now, but that makes things easier.
For those who have been passing disparaging comments about the hotels and such like that I have been staying in, I would like to point out that in the previous few days, I slept in a ditch, an abandoned building, and a tunnel under the road. The last one was near Natanz, which is highly sensitive due to the nuclear work going on there, but fortunately I did not get a midnight wake up call from the military.
From here I'm going to head south to Shiraz, then in a week or so I'll go back up to Tehran, hopefully get my Turkmenistan visa, then head east, to meet the other cyclists at Mashhad, not far from the border. Will try and do another post in a week from Shiraz.