For the last day of my summer holidays, we went mountain biking at Waitawa, about 50km south-east of Auckland. This is a new regional park in the Auckland area, that only opened in 2014.
For the last 50 years Waitawa operated as an explosives manufacturing facility. Obviously it was off-limits, even though it occupies a remarkable position overlooking the Hauraki Gulf. But the council purchased the land in 2004, and Orica finished operations in September 2013. Since then the council has been hard at work, re-shaping the park.
Normally regional parks are a lot of bush, with a few walking tracks and campsites. All very sedate. But here they've taken a different approach, planning a range of recreational activities within the park. So they've built walking tracks, MTB tracks, horse riding trails, disc golf, etc. There's fishing & BBQ areas, and there's even a campsite for sea kayaks.
It was a stunning day, and the park & surroundings were looking amazing: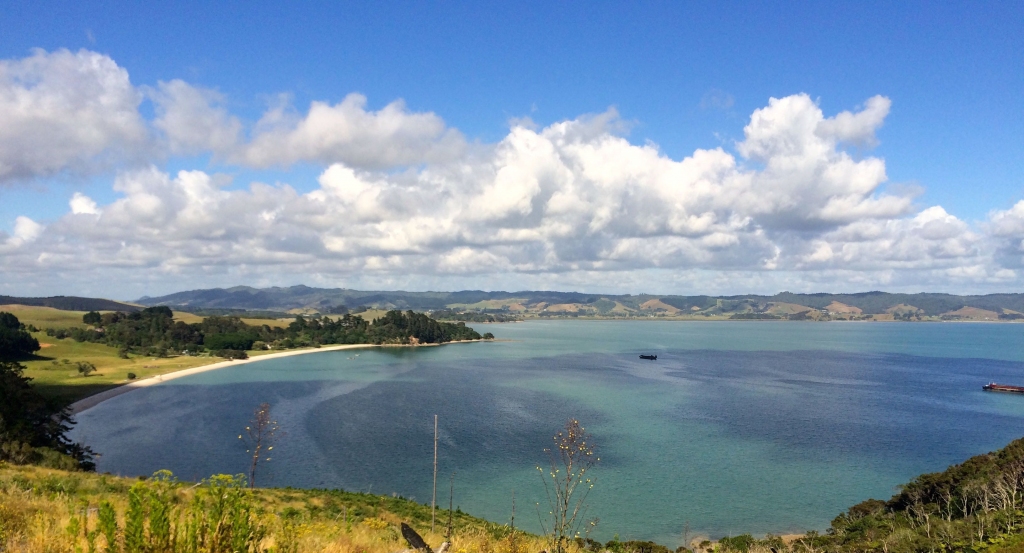 This was our first trip to Waitawa, so it was a bit of an exploratory mission. There's plenty of maps and signposts, but it was still a little tricky figuring out our bearings. The maps don't always quite match up with what's on the ground either.
They've had some problems with slips recently, which was limiting vehicle access. Some of the mountain bike tracks were impassable due to slips too, although this didn't cause any major problems for us. Lack of bikes was a bigger problem – the gorse is encroaching on some trails, because they just haven't had enough riders through there recently. I'm sure that will change.
Getting started was a bit tricky – we could see trails, but it was a bit unclear which trails were going where, and we had a bit of looping around near the carpark, before we got under way. Once we got onto a nice downhill to Mataitai Bay, we were away!
Down at the bay, we cruised over to the wharf, to watch someone catch a hammerhead shark. Only a foot long though, so it went back in.
Being summer, it was of course fine and sunny in Auckland, as it always is. Makes for hot and sweaty riding back up the hill. Trying to get around one of the old magazines, we hit blocked off trails and gorse, so had to backtrack and head up the road.
We then went up and over, and down to Waitawa Bay. This track is not marked on the maps as a mountain biking track, but it was signposted. It really shouldn't be a biking track though – the corners are too tight, and it's very steep in places, with many steps in the steep sections. A walking track, not a biking track. Still, it got us down to the campsite.
Lunch was the old mountain biking staple: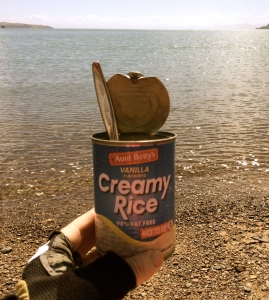 Easier to haul up the farm track away from it: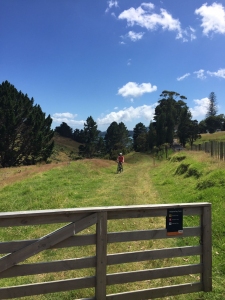 Well, maybe a little bit easier. Anna's face was about the same shade as her top by this time.
From here we headed back toward the main entrance, then picked up 'Oyster Shell' and 'Valley Loop' to take us back towards the MTB carpark. These trails were nice easy going, smoother than the trails we'd started out on. Some of the tracks are far too tight & steep, but these were perfect – only problem was getting too hot and sweaty on the uphill climb back to the car!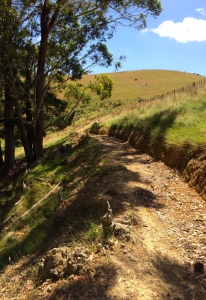 I'm not sure how well it will ride in the wet, but I look forward to getting back there again before the end of summer, to explore more of the trails to the Western side of the park.
It's great to see more mountain biking options in the Auckland area. With Fourforty now opening, there's plenty of choices in the South/East area.